Best Party and Event Rentals in Pearland, TX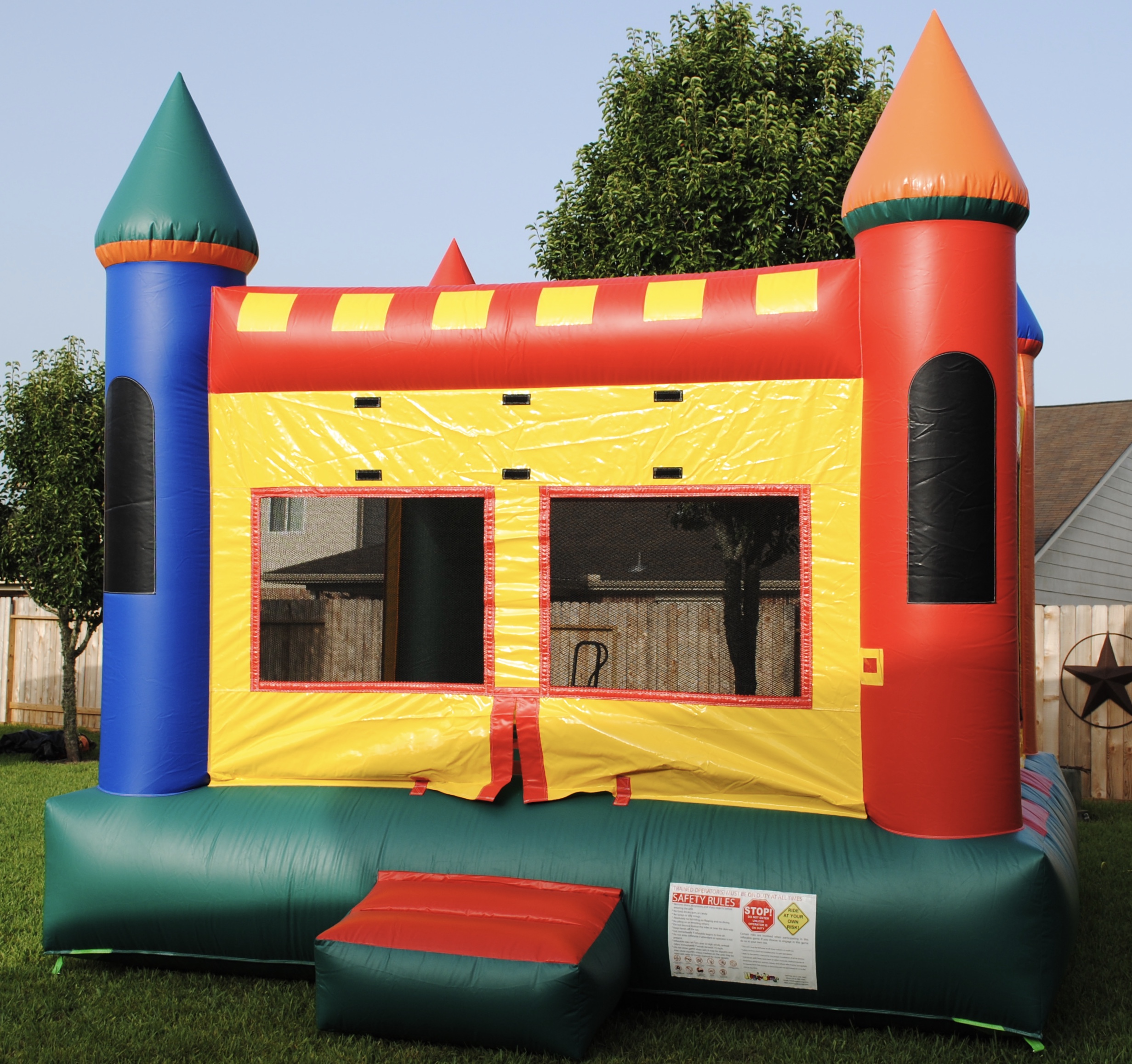 Bounce House Rentals Pearland

Inflatable bounce houses are a party rental favorite in Pearland. We have plenty of affordable options to choose from with over 60 themes.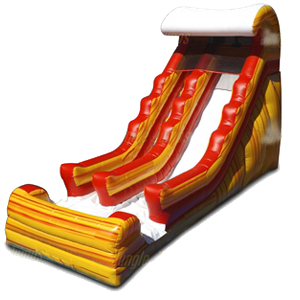 Water Slide Rentals Pearland
Inflatable water slides bring real fun to the summer months in Pearland. We have waterslides ranging from 13 - 22 ft tall to accommodate all ages.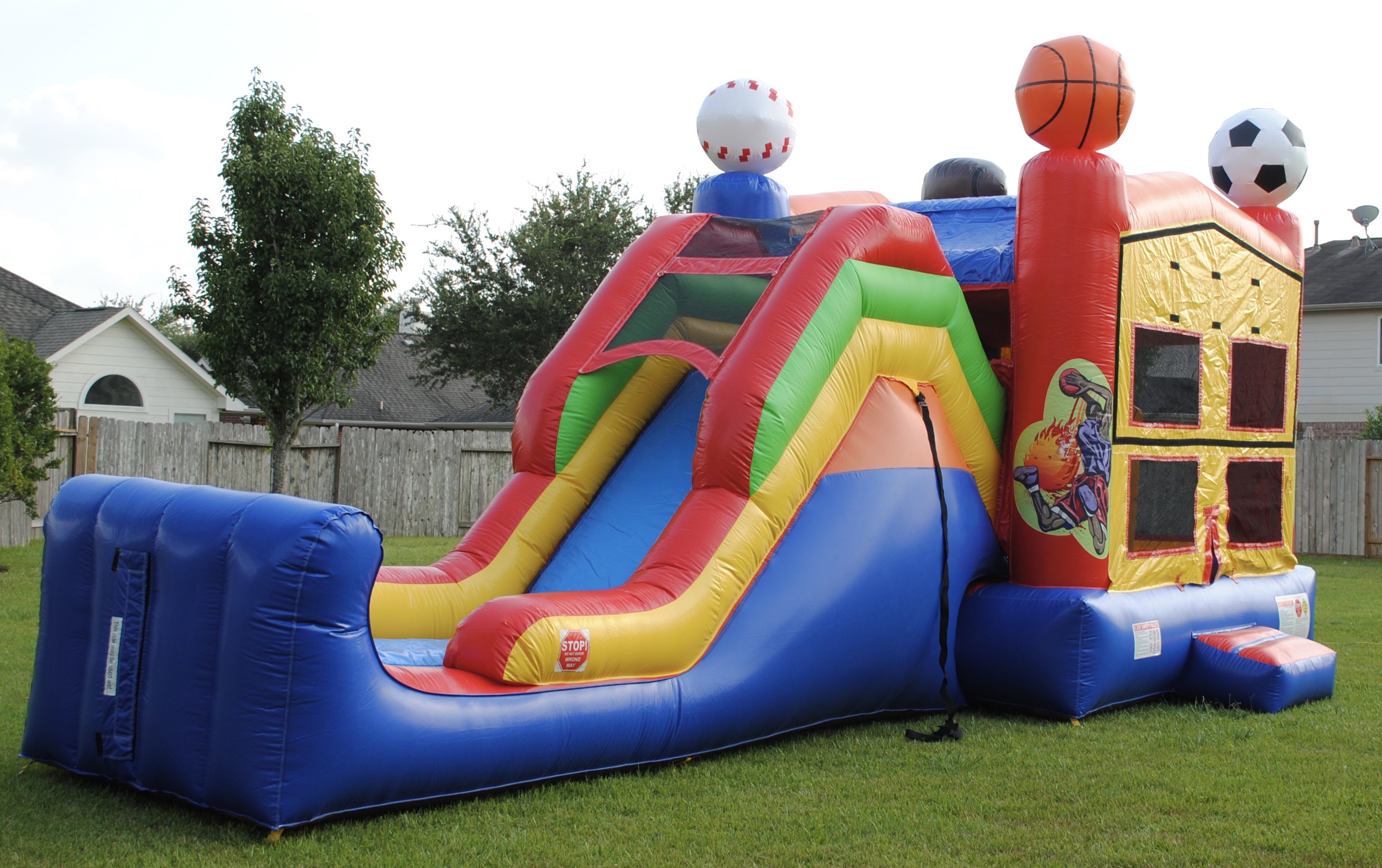 Party Rentals of Pearland
Looking for an inflatable bouncer upgrade? We have combo bouncers that bring in extra features to the basic bounce house. Bounce and Slide with these fun inflatables.
Are you looking for a reliable event rental company in Pearland, TX? Look no further than Party Rentals from Houston. If you want to make the most of your next adventure, let Party Rentals Houston handle all your event rental needs. We offer our customers great rental amenities in Pearland, TX.

Founded in 2017, we are a privately owned company and are known for providing outstanding service in Pearland, TX. We have a wide range of leases for clients. We prioritize your safety by providing clean rentals to make your event a memorable one.

You can trust the dedicated Party Rentals Houston team. It would be our pleasure to help you by organizing an extraordinary event for you. We offer all sizes and types of lots for rent. So the next time you plan a wedding, business meeting, family get-together, church festival, school carnival, birthday party or day out with your kids, give us a chance to make your special day even more special.

Party Rentals Houston offers over 30 themes for buyers who choose the one that seems to be the ideal option for their event. If you're confused about choosing the right theme for your party, there's nothing to worry about. We have professional staff to guide you through.

You can count on us for fast delivery. Our team of experts makes sure that there are no problems before or during the event. Our professionalism is evident from the machinery we use. We take no risk with regard to customer safety. We guarantee that our inflatables and equipment are thoroughly cleaned after each use.

If you plan on making your next event exceptional, we invite you to discover our wide range of event and party rentals. We promise we won't disappoint you. Choose a theme that fits your occasion and make your order NOW!
Inflatables Party Rentals Pearland, TX
Party Rentals Houston claims to offer the best rental rates for inflatable parties in Pearland, TX. We have a wide selection of inflatables that will make your party more enjoyable. Choices of inflatables include obstacle courses, slides and slides, bounce houses and more ... Don't worry; We have everything you need. If you are an adult or a child, you cannot jump in and ride on our fun rubber tires.

At Bounce House Rentals Pearland, TX, you will enjoy the dual role of safety as well as including all the fun in participating in a fun adventure. Our Specialty is washing all settings after each use. Our well-trained staff assures customers that their fun will be exciting. We treat your guests as our guests.

So, if you are planning an upcoming event, please contact us at Event Rentals in Pearland, TX. You can see a wide selection of inflatables that are ready to surprise you. We assure you that you have never experienced the joy we have for you.

Bounce House Rentals Pearland, TX
The largest Party Rentals collection features Bounce House Rentals Pearland, TX among others. We offer a wide range of inflatable homes for rent in Pearland, TX. Let's make your experience more exciting by offering more than 30 themes for your party. So choose a gorilla that will attract the crowd and enjoy it.

No matter what you might call, a bounce house, a jumping castle, a jumping castle, a gorilla, a jumping castle, a sword jumper, jumping by the moon, step by month, jumping or spacewalking, it only means one thing for children. Kids; many hours of fun!

Especially if you are planning a school fair or your child's birthday, Bounce House Rentals Pearland, TX provides its guests with interactive and fun entertainment. From small bouncers at birthday parties in the yards to large houses where corporate events compete, we have the equipment to stage all kinds of events.

We offer up-to-date and friendly houses in Pearland, TX. Check out our collection of over 30 themes specifically designed for different occasions. Does your child want their beloved cartoon character? Our expert staff will tailor the theme to your needs to make your event "perfect".

Combo Bounce House Rentals in Pearland, TX
If you want accessories for bounce houses, try renting a combination bounce house. In addition to jumping, children have fun with the extension of slides and other fun items. We are the Top Event Rentals in Pearland, TX, with professional prospects inviting guests to participate in increasing numbers. Our combined ejectors are available in a variety of features. The main options are 4n1, 5n1 and 7n1. Our range of combined gorillas is perfect for any type of party.

We make sure your kids have fun and have fun in their lives. They can jump and jump in the middle area, climb walls and stairs, throw hoops and move around freely without being injured. Our inflatables include everything you are looking for. Inflatable structures combined with skating and recovery adjust to the weather. Sign up for Event Rentals in Pearland, TX today and experience the funniest fun of your life!

Wet/Dry Combo Bounce Houses
Are you looking for a Pearland, TX Water Slide for this summer fun? Or do you want to add a beautiful water slide to your party at the moving house? We are here to provide you with the best wet/dry options.

We all know kids love to play with water, especially when they are in a group. We offer wet / dry rental combinations that allow your kids to jump, jump and use a water slide action charge to get the most out of their fun adventure. Think of your bounce house as a small water park and let your kids have fun. Nothing is more exciting than climbing a sleigh on a sunny day.

Water Slide Rentals Pearland, TX
What if you are planning a party this summer? Ever wondered how to get your guests interested? How would you stop them from getting bored? Don't worry, we covered it all!

The answer to the questions above is to rent a water slide with a skate rental in Pearland, TX. We assure you that your guests will have the most enjoyable moments of your fun. Adding a slide to a hot day for many people can be a blessing. Spend a few fun hours in a clean and safe inflatable skate rental Pearland, TX.

We have a wide selection of slides for different events. The height of the slide starts at 13ft and rises to 22ft. We guarantee the safety of your guests. You will get the best services with maximum protection so that even small scammers can feel safe.

In case your party is planned for winter or spring, we can provide you with dry slides. We care about the choice of our customers and do not want to influence their function. Even in adverse weather, Party Rentals from Houston offers inflatable dry slides to give customers maximum fun. However, in cold weather, slides may not be realistic. Our expert team will make the setting so attractive that your guests, especially the children, will be trained on our dry slides.

Obstacle Course Rentals Pearland, TX
Children love to compete when they are accompanied by joy. If you're also looking for innovation at your next event, consider hiring obstacle courses in Houston's Pearland, TX to add moments of joy and entertain guests.

Renting obstacle courses will keep visitors interested throughout the event. You can rent obstacle courses for birthdays, corporate meetings, religious holidays, school fairs, etc.

Obstacle courses are popular across all ages. Pearland, TX Obstacle Course Rental offers a wide variety of obstacle courses that suit the size or type of each event. Whether it's a 17ft cliff and climbing a slide, or extreme 70ft obstacles, your guests will have fun for hours. Sliding, digging, jumping and crawling are a lot of fun.

Concession Rentals Pearland, TX
In your next meeting, include part of a party rental in Pearland, TX and see how attendees get on for hours. We add fun to your parties to make them happy. From concessions to carnival games, to interactive sports games and children's playgrounds, we bring great moments of joy so your guest has a great time at their party.

We have a wide range of options for our customers. Who can resist the temptation of a funnel or frozen drink machine? The concession category of our rental equipment includes frozen beverage machines, cotton candy machines, hot dog makers, snooker machines and popcorn apparatuses.

Dunk Tank Rentals Pearland, TX
How can you stay away from the joyful experience of an immersed tank? Our experts can help you start your next tank rental event in Pearland, TX.

In addition to the pleasure it offers, immersed tanks run healthy guest competitions. These parties are in the best position to raise funds for charity. Everyone, including the dungeon, the dungeon and the onlookers, are so thrilled to watch the dunky dive!

Do you need the next time you raise money? Everyone will take the opportunity to see their elders, partners, friends or even teachers dive into the water with these exemplary immersion booths.

Submersible tanks arouse interest of all ages because they are a source of pure and safe joy. Believe it or not, even the tiniest of discoverers will be ready to be the next entrant in the crowded line, only to see them dive dunkee. Order your Submersible Event Rental Tanks in Pearland, TX.
Table and Chair Rentals Pearland, TX
Each party is incomplete without refreshments and delicious meals. It doesn't matter if you are planning a business meeting, wedding and birthday party or concert, you can't do without food. To add great dining equipment to your moments of happiness, contact: Table and Chair Rental Pearland TX.

You can place these tables and chairs under the tent or wherever you want. Party Rentals Houston offers different sizes and shapes to suit your needs. We ensure that it fits the aesthetics of your event. Let your guests sit and relax so they can fully enjoy the colours of your party.

Renting Pearland, TX tables and chairs are affordable and hassle-free. We offer very comfortable and durable chairs. A wide selection includes rectangular and round tables, so you can arrange things in the space available. All our equipment is reliable, safe and clean.

Why Choose Party Rentals of Houston in Pearland, TX for Your Event Rental Needs?
We are a full Event Rental in Pearland, TX. We can provide equipment and inflatables for all types of events. Our professional services will perfectly execute your events.
Cleaning the Inflatables
We understand that dirty dinghy not only looks ugly but also risks the lives of your guests. Houston's Party Rentals double-checks security measures. In addition, we do not compromise on cleanliness. We strive for our inflatables add colour to your events. All tires are thoroughly washed after each use. We completely disinfect our rentals when used between two consecutive events.
Top Customer Service
We first ensure that our customers do not encounter technical problems during the event. Second, we provide our customers with high quality customer support. We are the only Event Rental in Pearland, TX is offering fast, efficient and reliable customer service. Our team of experts helps clients beyond their wishes to keep their capabilities as consistent and consistent as would be expected in the circumstances.
Sometimes planning an event can be a difficult task. You can count on our friendly staff to help you manage the whole event. This will make you feel less stressed and have better ideas about events. Don't worry, we will offer you the best inflatable and inflatable equipment so your guests can enjoy and talk about your event for years to come.
Customer satisfaction is our top priority. We prefer quality rather than quantity. Party Rentals Houston provides world-class customer service and security for your guests.
Great Choice for Party Rentals
Party Rentals from Houston offers a wide selection of inflatables and rental equipment that are best suited for all types of events. If you are looking for the best event rental deal in Pearland, TX, take a look at our range of suits for event sizes and types.
We understand that kids are a little picky when it comes to choosing a lease for fun. We offer 30 different topics in the hope that at least one will meet your children's requirements.
Whether you are planning a rooftop party or a large gathering, we are at your disposal. Our wide range of inflatable structures will meet all your requirements.
Availability
Party Rentals from Houston provides customers with a fast and efficient way to communicate through our website. Customers can easily access us through their computers. We offer a convenient online party rental booking in Pearland, TX. All you have to do is visit our website, check the availability of rentals when you plan to rent them and press the button to continue with your booking information.
We know that it is not easy for all our customers to come and visit us. Therefore, we have improved our online booking system to the extent that you can book your inflatables from the comfort of your couch.
Private Ownership and Management
You can count on us because we are a private company and have been operating locally since 2017. There is no interference from "third parties" or "intermediaries". Therefore, you can trust the Party Rentals service in Houston. We are more reliable, creative and helpful than other Event Rentals in Pearland, TX. Ask us today and get ready for the best rental experience of your life!
Exclusive Offers for Special Customers
We thank all our customers who have already experienced our inflatables. We also expect new customers to see special discounts on renting our events. Customer satisfaction is our top priority. We offer exclusive discounts to customers who believe in our services. We also reward customers who support our own Pearland military and emergency services.
All in one event store
From slides to gorillas, tables and chairs to food processing machines, we have everything you need. Instead of hiring multiple companies for different tasks, book your orders at Party Rentals from Houston and leave the rest to us. The rest of the question will be answered in a professional and efficient manner.
The search for the best locations is complete. If you are planning a school fair, birthday party, wedding anniversary or religious event, let us know and see how we impress your guests. Party Rentals Houston offers world-class amenities to significantly impact your guests.
We Deliver Fun to You
We deliver services of high quality in different locations near Houston which include
Missouri City
,
Sugar Land
,
Fresno
,
Riverstone
,
Arcola
,
lowa Colony
,
Rosharon
, and surrounding areas. If you have questions about delivery, send us a message.